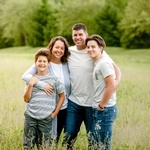 (765) 457-7214

765-776-1911 cell phone

laura@cardwellbuilt.com
1808 Dogwood Drive
KOKOMO IN, 46902
Receive Email Alerts from Me
Laura has been a resident of Kokomo most of her life and loves her community! She's married to John Cardwell and they have two boys who keep them busy. Laura has been in Real Estate for 16 years and works side by side with her husband at their custom home building business,
You can get in touch with Laura for your real estate needs at her contact information below!
(765) 776-1911 | laura@cardwellbuilt.com.